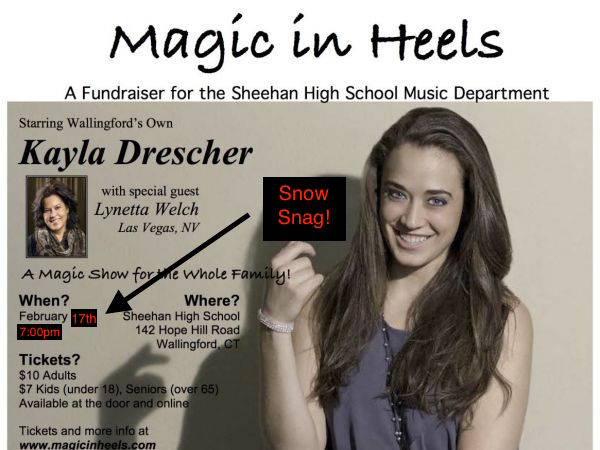 Snow Can't Hold Us Down!
Calling all Connecticut residents! Come support the Sheehan High School Music Department of Wallingford, CT with the Magic in Heels show!
Bring the whole family!
When?
February 17th, 2017
7:00pm
Where?
Sheehan High School
142 Hope Hill Road
Wallingford, CT 06492
Tickets?
$10 Adults
$7 Kids (under 18), Seniors (over 65)
Purchase tickets HERE or at the door
Kayla Drescher, an original Wallingford resident, is coming back to perform her family-friendly magic show! Bring the kids, siblings, grand parents, and everyone else you know! Let's help the Sheehan Music Department buy new instruments or defray the cost of their next competition trip!
Kayla brings her enthusiastic, engaging, and contagious personality to Wallingford. She's performed for clients all over the nation, including CBS Interactive, IBM, UBS Warburg, The Make-a-Wish Foundation, and much more! She's won multiple awards, including Boston's 2013, "Magician of the Year". She's also appeared on television numerous times, including 
Indiannapolis Fox 59 News
, 
Connecticut's "Talking with Tom"
, and 
NBC's "The Today Show"
, where she won David Copperfield's "Search for the Next Great Magician." Kayla continues to push reality's limits and create one unforgettable show.
Magic in Heels also offers a speical guest! Lynetta Welch, a Las Vegas based magician, has been creating and performing magic for 30 years. Her reputation in the magic communty speaks for itself, as magicians like Teller (of Penn and Teller fame), Matt Franco, and Piff the Magic Dragon have sought out her expertise.
Watch as the impossible becomes possible. See torn objects restored! Liquids appear from nowhere! Borrowed objects appear in impossible locations! It's an interactive show, so get ready to see your coworkers, friends, and family get in on the act.
Get ready for a fantastic show for a great cause!
See you there!